[ad_1]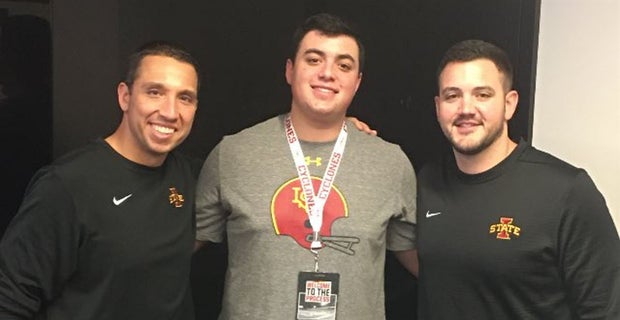 As late as the final week of October, when Dodge Sauser entered the final Friday night of his junior season at Grinnell High School, the big-framed offensive lineman was still weighing in at less than 250 pounds.
Iowa State had been interested in the 6-foot-4 ½ Sauser for some time. The Cyclones hosted him at camp during his sophomore year and had been monitoring his junior film when the 2021 cycle began heating up last September. But Sauser was still developing into his body and the Cyclones were poised to take a wait-and-see approach into 2020.
By the end of January, Sauser was causing double takes as Iowa State coaches made their way around the Midwest to recruit. The Cyclones went to Grinnell to see Sauser on one January day and noticed a completely different-looking prospect, so much so that they pushed for Matt Campbell to make his own trip the next week before the dead period. Campbell stopped in, verified the same for himself and Iowa State offered on Jan. 31. Sauser committed the next day.
Three months after his season had ended, he was up 30 pounds to 275.
"I would probably say I was right around 245 the last week of the season because a big thing I struggle with is even though I still try and eat like crazy, I just burn off a lot of weight during the season. I'm really going to have to work harder to keep on as much weight as I can during the season," Sauser said. "Once we really started working out twice a day and just working on my upper body strength a lot more I just slowly noticed every day the weight was going up in a good way and even my strength kept going up."
Iowa State liked a lot about Sauser even at his lower weight — from footwork to his ability to excel in pass protection — but physique is a key part. When the Cyclones put those two things together, offensive coordinator Tom Manning, offensive line coach Jeff Myers and Campbell were sold.
"The big thing was they really liked my style of play," Sauser said of the offer from the Cyclones. "They liked how violent I try to play and that I just kept putting guys in the ground. Along with that I have really good feet and good pass-pro. Especially now with the weight on they're just really excited to see what I can do this season at almost 30 pounds heavier."
Sauser had the frame to develop into, but the constant workouts and game schedule that come with football season oftentimes took pounds off. A new workout regiment has been a focal point for the soon-to-be senior and has paid dividends in the 30-pound gain.
"The big thing was just keeping a better diet but also just working out more. There were times where a big thing I struggled with was upper body strength and there was a lot during that time period those couple months where I was probably working out twice a day, 4-5 times a week and pairing that with a lot of protein as well as that," Sauser said. "All the working out and all the protein helped me put on good muscle mass and let me get stronger and get heavier."
As the first commit in Iowa State's 2021 class, Sauser has become a key recruiter and has been vocal on the trail. Despite the spring dead period, Sauser is holding out hope that he can use his new weight and work hands-on in June with Myers and Co. Whatever the case, the in-state lineman is headed to Ames in 2021 with a new look.
"I definitely hope I can get up there for camp. I really hope we can have camp," Sauser said. "I live less than an hour away, an hour tops, so it's not a hard drive at all. Besides camp, even just getting up there and watching them lift and sit in on a couple meetings and watch practice and just learn more about the offense and how they do things."
Source link