Nia Jax is a proud descendent of the Samoan Dynasty. However, despite being one of the top wrestlers of today, her journey was never easy.
Being 6′ tall and weighing 272 pounds, Nia Jax is rightly known as the "Irresistible Force." She was billed as WWE's first plus-size wrestler when she debuted in 2016. But she had to sacrifice a lot in order to come to the top.
She suffered from body image issues from an early age as she was surrounded by women who were smaller than her. She said to Yahoo, "I never looked in the mirror and said, 'Look at me! I have a great butt and great abs.' It was always negative."
While she faced bullying as a teenager, the support of her mother always guided her. Nia went into the world of sports and she was unstoppable there due to her athleticism.
"I was a stellar athlete. Yeah, I was a bigger taller girl, but I could kill it on the basketball court and be unstoppable on the volleyball court. That gave me my confidence, knowing that my body had its purpose."
Nia Jax went into wrestling after much skepticism
When she first thought about proffesional wrestling, she was skeptical as "not to knock the women, but they were skinny — they were beautiful! I felt like I couldn't wrestle because I didn't look like any of those girls."
However, her aunt changed her mind, and she went to the same wrestling school as her cousin The Rock. While various "beautiful" and smaller women around her were intimidating at first, Jax got her confidence back after she was the top pick in the try-outs.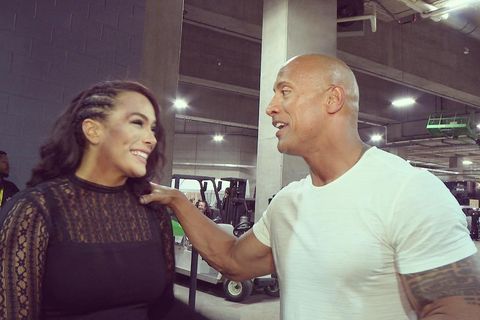 After her transition to NXT, Nia wanted to fit in with others and be small with the help of dieting. However, she revealed how the NXT coaches changed her mind as they said, "The reason why we wanted you, and the reason that makes you so special, is that you are bigger than everybody.
"That makes you stand out above the rest, and it actually helps the dynamic of matches out here…It's something that people have never seen."
Hence, Jax discarded the idea to lose weight to fit in and focused on her true self.
Before she became a wrestler, she was a plus-size model. She once wrote on Instagram, "We aren't meant to look the same, but we are all meant to be healthy. We are all beautiful in different ways. Staying healthy adds to the beauty. Even more importantly, it will increase your self-confidence. That's been my experience at least."
Nia Jax was recently the Women's Tag Team Champion with Shayna Baszler. She lost their title to Charlotte Flair and Asuka at TLC. Hopefully, her journey will help other people to overcome the adversities and living their dreams.
Source link